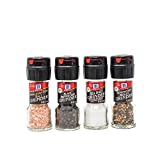 McCormick Salt & Pepper Grinder Variety Pack (Himalayan Pink Salt, Sea Salt, Black Peppercorn, Peppercorn Medley), 0.05 lb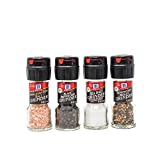 Price: $11.95
Brand: McCormick
Features
Add flavor into burgers, seafood and more, with a simple twist of the grinder
Black Pepper, Sea Salt, Peppercorn Medley and Himalayan Pink Salt Grinders
Keep the salt and pepper grinder set on your table top for everyday seasoning
Just twist to choose your grind settings to go from fine to coarse.
Salt and pepper shakers make a great housewarming gift for everyone
New from $11.95 (7 offers)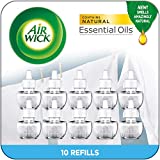 Air Wick plug in Scented Oil 10 Refills, Fresh Linen, Same familiar Smell of Fresh Laundry, Eco friendly, Essential Oils, Air Freshener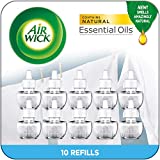 Price: $21.94 ($3.25 / Fl Oz)
Color: Transparent
Model: 1
Brand: Air Wick
Features
FRAGRANCE: Familiar smell of fresh clean laundry, sunshine and pure white flowers blend together
VALUE: Mega pack provides up to 600 days of continuous and long-lasting fragrance based on low setting
ESSENTIAL OILS: Contains natural essential oils for a better fragrance experience
PACKAGING has 50% less plastic then our current blister pack and it's easier to open. Box and glass bottles can be recycled. This product is manufactured in a plant that is zero manufacturing waste to landfill
CARDBOARD BOX: This product comes in a cardboard box which allows easy storage
New from $21.94 ($3.25 / Fl Oz) (3 offers)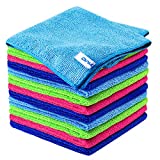 12Pcs Premium Microfiber Cleaning Cloth by ovwo – Highly Absorbent, Lint Free, Scratch Free, Reusable Cleaning Supplies – for Kitchen Towels, Dish Cloths, Dust Rag, Cleaning Rags in Household Cleaning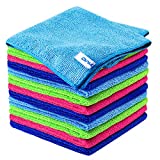 Price: $9.99 ($0.83 / Count) – save $3.50 (26%)!
Color: Light Blue, Green, Red, Navy Blue
Model: SDC3CTX12
Brand: ovwo
Features
HIGH QUALITY: Thick, soft and durable, lint free, scratch free and reusable premium microfiber cloth, Its' material is mainly composed of polyester and polyamide.
HIGH PERFORMANCE:These microfiber towels rags are extremely absorbent, which can efficiently absorb water, stains, dust, etc.
EASILY MAINTAIN: It's easy to wash and wire out quickly, and can be hung up by a special hook to dry naturally faster, thereby saving your time and energy.
MULTIPURPOSE: It's great for removing dust, dirt, oil, smudges and ideal for kitchen cleaning, dusting, glass. Often used in pots and pans, plates, kitchen utensils, counters, mirrors, glasses, furniture, bathroom sinks, etc.
QUALITY ASSURANCE: Your satisfaction is our unremittingly pursued goal. If you have any questions or comments about the products, please contact us in time, we will try our best to provide a most satisfactory solution within 24 hours.
New from $9.99 ($0.83 / Count) (1 offers)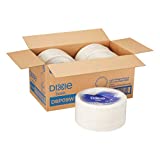 Dixie Basic 8.5" Light-Weight Paper Plates by GP PRO (Georgia-Pacific), White, DBP09W, 500 Count (125 Plates Per Pack, 4 Packs Per Case)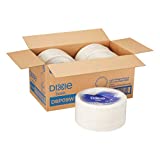 Price: $32.18 ($0.06 / Dinnerware) – save $26.68 (45%)!
Color: White
Model: DBP09W
Brand: Georgia-Pacific
Features
THESE WHITE PAPER PLATES TAKE UP 1/3 OF THE STORAGE SPACE of foam plates
FREE OF INKS AND DYES, white disposable plates coordinate with any decor
A SUSTAINABLE OPTION, Dixie Basic plates are recyclable1 and have OK compost HOME (OKH-S0755) certification
PERFECT FOR LIGHTWEIGHT MEALS AND SNACKS, convenient microwave-safe plates resist cuts and soak-through
COORDINATE WITH OTHER DIXIE BASIC bowls, cutlery and napkins
New from $32.18 ($0.06 / Dinnerware) (16 offers)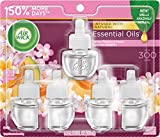 Air Wick plug in Scented Oil 5 Refills, Summer Delights, (5×0.67oz), Essential Oils, Air Freshener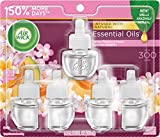 Price: $10.97 ($3.25 / Fl Oz) – save $0.82 (7%)!
Color: Summer Delight
Model: 98481CT
Brand: Air Wick
Features
FRAGRANCE: Bring the delights of summer into your home combining fresh white florals, sweet melon, and subtle vanilla
VALUE: Provides up to 60 days of continuous and long-lasting fragrance PER REFILL based on low setting
ESSENTIAL OILS: Contains natural essential oils for a better fragrance experience. Aluminum-Free
WARMER: Easy adjust warmer with 5X fragrance settings. Refills are compatible with all versions of Air Wick plug warmers
USE IN ANY ROOM: living room, bathroom, bedroom, hallways, kitchens and office
New from $10.97 ($3.25 / Fl Oz) (6 offers)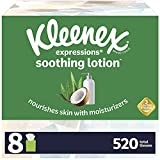 Kleenex Soothing Lotion Facial Tissues with Coconut Oil, Aloe & Vitamin E, 65 Count (Pack of 8)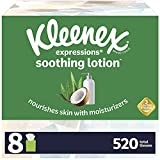 Price: $10.14 ($1.95 / 100 Sheets)
Color: White
Model: 10036000519836
Brand: Kleenex
Features
Contains 8 cube boxes, 65 Soothing Lotion facial tissues per box = 520 total tissues
Packaging may vary
Soft 3-layer strong facial tissues infused with Coconut Oil, Aloe Vera and Vitamin E
Preferred 2:1 over the leading lotion-infused facial tissue
Daily moisturizers nourish and help protect skin
Prepare for all seasons in your home with Kleenex Soothing Lotion facial tissues
Tissue boxes available in a variety of colors, designs, and sizes (may vary from image shown)
Skip the store and have America's #1 preferred lotion tissue (among national brands) delivered
New from $10.14 ($1.95 / 100 Sheets) (3 offers)