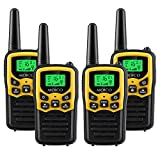 Walkie Talkies with 22 FRS Channels, MOICO Walkie Talkies for Adults with LED Flashlight VOX Scan LCD Display, Long Range Family Walkie Talkie for Hiking Camping Trip (Yellow, 4 Pack)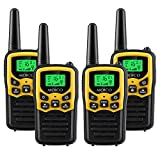 Price: $39.59
Color: Yellow
Model: T5
Warranty: 2 years
Brand: MOICO
Features
【Compatible with Any the Same Channel Radio】FCC ID ; 2ASV6-T5A. MOICO walkie talkies for adults have 22 FRS channels plus 99 sets of CTCSS tones ( privacy codes), The continuous tone-coded squelch system gives you up to 2178 combinations, you can communicate with other FRS radios regardless of brand by being on the same channel and privacy code.
【More Features and User-Friendly Design】Push to talk (PTT) button; 6 adjustable volumes; 10 call tone settings; Built-in LED torch; Keypad lock. This walkie talkie has bold green back-lit LCD screen provides high visibility in night.It can be used by inserting the battery (the package does not contain the battery), and avoid the situation where it cannot be recharged in outdoor.
【 Long Rang Walkie Talkies】Walkie talkies can reach 3 miles communication range in open areas such as rural areas, suburbs or seaside, etc. where there is no shelter. If in cities or towns, walkie talkies can reach 0.6-1.2 miles. The actual distance depends on the obstruction of the current environment.
【Lightweight, Wide use】Small size and light weight, hard and durable shell, drop-proof. easy voice and sound activation transmission (VOX) with 3 sensitivity levels for hands-free operation.this walkie talkies provides long range communication and clear sound for hiking, biking, camping trip, road trip, cruise ship and so on. It is also a great communication tool for kids and the elder to talk to others at home.
【After-Sales Service Assurance】MOICO provide a money back within 30 days and lifetime customer service.If you have any questions, please send email to us through the Amazon platform, we have professional engineers can solve your problem as soon as possible.
New from $39.59 (1 offers)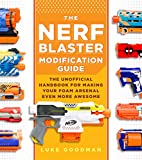 The Nerf Blaster Modification Guide: The Unofficial Handbook for Making Your Foam Arsenal Even More Awesome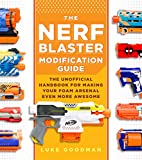 Price: $9.99
New from $9.99 (1 offers)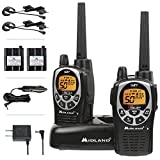 Midland 50 Channel Waterproof GMRS Two-Way Radio – Long Range Walkie Talkie with 142 Privacy Codes, SOS Siren, and NOAA Weather Alerts and Weather Scan (Black/Silver, Pair Pack)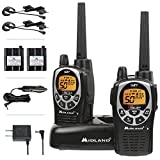 Price: $69.99
Color: Black, Silver
Model: GXT1000VP4
Warranty: 3 Year
Brand: Midland
Features
2-Way Radios – These Walkie-Talkies Feature 50 Gmrs (General Mobile Radio Service) Channels, Along With Channel Scan To Check For Activity. The Jis4 Waterproof Protection Prevents Splashing Water From Having Any Harmful Effect On It (Splash Resistant)
36-Mile Range – Longer Range Communication In Open Areas With Little Or No Obstruction. Easy Voice And Sound Activation Transmission (Evox) With 9 Sensitivity Levels For Hands-Free Operation
142 Ctcss/Dcs Privacy Codes – The Privacy Codes Give You Up To 3,124 Channel Options To Block Other Conversations
Noaa Weather Scan + Alert – Noaa Weather Scan Will Automatically Scan Through 10 Available Weather (Wx) Band Channels And Locks Onto The Strongest Weather Channel To Alert You Of Severe Weather Updates. Noaa Weather Alert Will Sound An Alarm Indicating That There Is A Risk Of Severe Weather In Your Area
New from $69.99 (2 offers)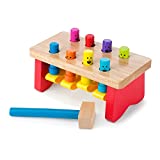 Melissa & Doug Deluxe Pounding Bench Wooden Toy With Mallet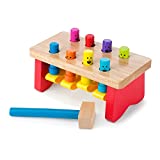 Price: $15.89 – save $3.60 (18%)!
Color: Multicolor
Model: 4490
Warranty: No Warranty
Brand: Melissa & Doug
Features
CLASSIC POUNDING TOY: The Deluxe Pounding Bench Wooden Toy with Mallet is a classic pounding toy with a design twist. As the colorful, non-removable pegs on the bench go up and down, they play peekaboo, taking turns showing their friendly smiles.
HELPS DEVELOP FINE MOTOR SKILLS: Our pounding bench is an exceptional learning toy that helps children practice fine motor skills. The action of the pegs helps children name the colors and provides an effective, hands-on, screen-free play option.
DURABLE WOODEN CONSTRUCTION: This wooden toy set with mallet is made from high-quality materials. The built-in pegs are non-removable, and each component is made from solid wood – for superior strength and longevity.
GREAT GIFT FOR 2 TO 4 YEARS: The Melissa & Doug Deluxe Pounding Bench Wooden Toy makes a great gift for kids ages 2 to 4 years. Add the Melissa & Doug Wooden Latches Board to round out the developmental play and learning experience.
"THE GOLD STANDARD IN CHILDHOOD PLAY": For more than 30 years, Melissa & Doug has created beautifully designed imagination- and creativity-sparking products that NBC News calls "the gold standard in early childhood play."
New from $15.89 (15 offers)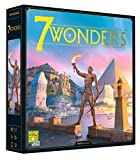 7 Wonders Board Game (BASE GAME) – New Edition | Family Board Game | Board Game for Adults and Family | Civilization and Strategy Board Game | 3-7 Players | Ages 10 and up | Made by Repos Production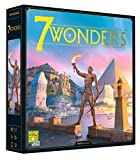 Price: $29.39 – save $30.60 (51%)!
Color: Mixed Colours
Model: SV01EN
Warranty: No Warranty
Brand: Repos Production
Features
STRATEGY GAME: You are a leader of one of the seven greatest cities of the Ancient World. Gather resources, develop commercial routes and affirm your military supremacy. Build your city and erect an architectural wonder which will transcend future times.
TAKE CONTROL OF YOUR CIVILIZATION: Players draft cards over multiple rounds, carefully building towards long-term goals. Keep an eye on your neighbors' progress since they share similar ambitions. Will your wonder transcend the millennia to come?
CIVILIZATION WAS BORN FROM EVOLUTION: One game of 7 Wonders plays over the course of three rounds, called Ages, during which you will choose cards with increasingly powerful effects. Each card you choose will influence your general strategy.
HOW TO WIN THIS GAME: At the end of each age, each player compares their military strength with one of their neighboring cities. When the third age is over, players score the points given by their cards and their military conflicts. The winner is the player with the most points.
HIGH REPLAYABILITY AND PLAYER ENGAGEMENT: 7 Wonders offers quick gameplays which keep players engaged regardless of player count. The game allows multiple strategy opportunities which makes each game thrilling from beggining to end. LOOKING FOR NEW ADVENTURES? Try our 3 Expansions New Editions: Cities, Leaders and Armada (Note: All Expansions require 7 Wonders Base Game to play).
New from $29.39 (11 offers)
Used from $37.53 (1 offers)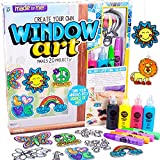 Made By Me Create Your Own Window Art – Paint Your Own Suncatchers – DIY Suncatchers – Arts and Craft Kits for Kids Ages 6 and Up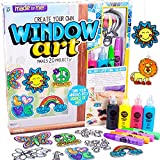 Price: $10.85 – save $8.09 (43%)!
Color: Multicolor
Model: 46092
Warranty: No Warranty
Brand: Made By Me
Features
DESIGN 20 WINDOW ART CREATIONS: Make your windows pop with 20 whimsical window art creations! Color 12 suncatcher shapes and create custom transfers with vibrant suncatcher paints!
BE ORIGINAL: Trace illustrations from the included instructions or create custom creations with the acetate sheet and paint pens to make one-of-a-kind window clings.
PROMOTE CREATIVITY: Mix colors, create fun patterns and paint personalized designs to express yourself! Each design is unique to you!
THE PERFECT COLORFUL GIFT: Give the gift of smiles with a hands-on craft that kids (and adults!) will love. Great for birthdays, parties, after school fun, summer projects and holidays!
KIT INCLUDES: 8 Paint Tubes (1 Green, 1 Purple, 1 Orange, 1 Pink, 1 Blue, 1 Red, 1 Yellow, 1 Black), 1 Acetate Sheet (5×7), 12 Plastic Suncatchers (Butterfly, Turtle, Sun, Rainbow, Flower, Peace Sign, Hot Air Balloon, Giraffe, Monkey, Hummingbird, Love Sign, Lion), 3 Cordings (1 yd/ea), 12 Suction Cups, Easy-To-Follow Instructions
New from $10.85 (15 offers)
Used from $7.90 (4 offers)