e.l.f. Jet Set Hydration Kit, Travel Friendly Skincare Set, Cleanser, Balm, Moisturizer, Eye Cream & Night Cream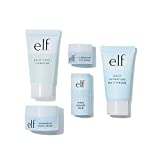 Price: $14.22 – save $0.78 (5%)!
Color: White
Model: 57418
Warranty: One year limited warranty
Brand: e.l.f.
Features
SKINCARE ON THE GO: The e.l.f. Jet Set Hydration Kit contains all of your skincare favourites in a TSA-ready travel-sized kit, including Cleanser (30ml), Balm (6g), Moisturizer (25ml), Eye Cream (7g) and Night Cream (15g).
NOURISH & HYDRATE: Packed with skincare essentials such as Aloe, Shea Butter, Jojoba Oil, Vitamin E, Peptides and Hyaluronic Acid.
FOR EVERYONE: Perfectly compatible with all skin types.
SKIN-LOVING INGREDIENTS: All e.l.f. products are made from skin-loving ingredients you want, minus the toxins you don't—all at good-for-you prices. All e.l.f. products are 100% cruelty-free and Vegan.
New from $14.22 (4 offers)