Airtight Food Storage Container Set – 24 Piece, Kitchen & Pantry Organization, BPA-Free, Plastic Canisters with Durable Lids Ideal for Cereal, Flour & Sugar – Labels, Marker & Spoon Set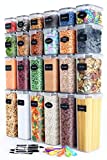 Price: $69.97 – save $10.00 (13%)!
Color: Transparent
Model: UH0528
Brand: Chef's Path
Features
✮ All you need to tidy up: With 24 BPA-free food storage canisters in four sizes from 11.83 cups/2.8l to 3.38 cups/0.8l, a chalkboard marker and reusable chalkboard labels, you've got all you need to finally make your pantry make sense. Plus, the bonus measuring spoon set helps you put that flour and sugar to proper use.
✮ From tall to small: No matter your space, you'll be able to find room for these airtight containers. We give you 6 extra-large containers (11.83 cups/2.8 liters,) 6 large containers (8.45 cups /2.0 liters), 6 medium containers (5.92 cups /1.4 liter), and 6 small containers (3.38 cups /0.8 liters) – each of which is clear enough to let you see what's inside.
✮ Granule, solid or liquid: Nothing is too much for these airtight food safe keepers. Whether you need to store baking essentials like flour and sugar, you want to keep your coffee tasting fresh, you've got some hungry kids who like their snacks and cereal to stay crisp, or you just made a giant pot of soup and need a container that will fit those leftovers, these containers with four-sided locking lids will come to your rescue to keep everything ready to use whenever you need it.
✮ The perfect gift for a messy kitchen: Do you know someone who could use a fresh start when it comes to keeping everything organized in their kitchen or pantry? Maybe you? These stackable, durable bins will be a lifesaver! Equally at home in a fridge, freezer, cupboard or closet, they're easy to clean, super sturdy and can be quickly labeled thanks to the included chalkboard marker and reusable labels.
Used from $54.69 (3 offers)
New from $69.97 (1 offers)