Numbers Train! – Learning to Count from 1 to 100 for Kids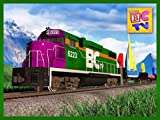 Price: $1.99
Color: Multicolor
Model: 902-00064
Warranty: 90 Day Warranty Against Manufacturer Defects
Brand: Osmo
Features
Actual product packaging may vary from the image displayed. Components within the box remain the same. OSMO IS MAGIC: Fun-filled & award winning learning games. Children interact with actual hand held pieces & an iPad or Fire Tablet, bringing a child's game pieces & actions to life (No WiFi necessary for game play). Osmo Base and iPad/Fire Tablet not included, required for game play.
TEACHING: Make pizza for customers, collect payment & make change (dollars/coins), & learn the profitability of your business. Additional game concepts include: Addition, Subtraction, Fractions, mental math, design and communication skills (Pizza Co.).
SKILLS LEARNED: Real-world (business) math, money, addition, subtraction, fractions, fast paced mental math, run & grow a business, social interaction, listening, critical thinking, oberservation, creative problem solving & basic business concepts. Osmo sees and reacts to every real-life move. Geared towards children & love of learning.
AGE & CAPABILITY: Ages 5-12+. Game is designed for beginner to expert levels. Osmo enables the continuation of learning. Real-time audio and visual feedback lets children learn through experimentation in a stress-free environment.
WHAT'S IN THE BOX: Pizza/Tray, Toppings, Money tiles, Stackable storage for game pieces & 1 Game App: Pizza Co.
COMPATIBILITY FOR IPAD: All iPads except Generation 1-4 and iPad Mini 1-3 Gen. The new iPad 10th Gen, iPad Pro 11" (4th Gen), & iPad Pro 12.9" (6th Gen) are not currently compatible; compatibility coming later in 2023. iPad Reflector 2021 required for: iPad Mini 6, iPad Air 4-5, iPad Pro 11-inch & iPad Pro 12.9-inch. The minimum iOS version needed is iOS 15.
COMPATIBILITY FOR FIRE TABLET: Fire HD 8 (8th & 10th Gen), and Fire HD 10 (9th & 11th Gen). Fire Reflector 2021, sold separately, required for the: Fire HD 8 (10th Gen) & Fire HD 10 (11th Gen). The minimum FireOS version needed is 7. Fire models released in the Fall of 2022 are not currently compatible; Fire 7 (2022) will not be made compatible with Osmo products. Fire 8 (2022) compatibility coming late April 2023.
New from $1.99 (1 offers)