Merge Animals 3D – Mutant race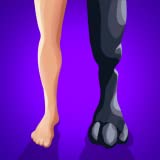 Price: $0.00
Brand: Saygames LTD
Features
Survival of the fittest – over 20 different levels with hugely varied obstacle courses, different aspects of which favor different advantages in evolution. Mod your mutant runner carefully in the lab, and if you don't win first time, try merging other genetic variations to produce the right combination for the course. Keep on experimenting!
Lucky rabbit's feet – inject your runner with the DNA of over 10 different animals to create hundreds of genetic variations, each with their own unique genetic advantages that will help overcome a specific element of the obstacle course. Give your athlete the wings of an eagle to soar above the competition, the arms of a spider to scramble over rough surfaces, a giraffe's neck to stretch across the finish line, and a pair of rabbit's feet just for luck.
Designer DNA – colorful graphics and cool character design merge with imaginative obstacles and eye-catching animation to make the world of Merge Animals 3D a beautiful game right down to the last pixel, as well as fun and vibrant place to spend your time as you play at mad scientist in style.
New from $0.00 (1 offers)