Brawny® Pick-A-Size® Paper Towels, 6 Double Rolls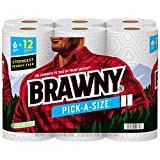 Price: $12.68 ($1.76 / 100 Sheets)
Color: White
Model: 443805
Brand: Brawny
Features
Our strongest ever Brawny Pick-A-Size Paper Towels have the strength you need to tackle even your toughest messes
Each Double Roll has 120 2-ply sheets and is equal to 2 Brawny Regular Rolls, so you can change the roll less often.
Full- or half-sheet paper towels that are just the right size for everyday tasks.
Strong, durable and absorbent—perfect for tough messes and all your everyday cleaning needs.
Each pack contains 6 Double Rolls and is equal to 12 Regular Rolls.
New from $12.68 ($1.76 / 100 Sheets) (1 offers)