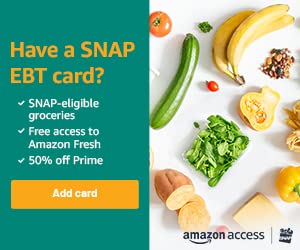 Exciting News! Discover What You Can Buy with Your SNAP EBT on Amazon!
Are you aware that your SNAP EBT benefits can now be used to shop for groceries on Amazon? It's an incredible opportunity to access a wide range of nutritious and delicious foods conveniently delivered right to your doorstep. Let's explore the fantastic options available to you:
1️⃣ Fresh and Healthy: Fill your virtual cart with an abundance of fruits, vegetables, meat, poultry, fish, and dairy products. Enjoy the goodness of nature, packed with essential nutrients, right from the comfort of your home.
2️⃣ Pantry Staples: Stock up on essential items that form the foundation of your meals. From breads and cereals to canned vegetables and pantry staples, Amazon has got you covered. These versatile ingredients will help you create wholesome and hearty dishes every day. ️
3️⃣ Snacks and More: Looking for a quick bite or something to satisfy your cravings? You'll be delighted to know that Amazon offers a wide selection of snacks, seeds, and non-alcoholic beverages. Grab your favorite treats and beverages to enjoy during moments of relaxation or on-the-go.
Remember, when you browse through the vast collection on Amazon, keep an eye out for items labeled "SNAP EBT Eligible." These labels ensure that your purchases can be made using your SNAP EBT benefits, making your shopping experience hassle-free. ️✨
To start shopping, simply visit Amazon's website or use the Amazon mobile app. Add the items you desire to your cart, proceed to checkout, and select "SNAP EBT" as your payment option. It's that easy!
Spread the word and let your friends and family know about this wonderful opportunity. Together, we can make accessing nutritious food more convenient and inclusive for everyone.
Click this link for More information  
#SNAPBenefits #Amazon #GroceryShopping #NutritiousChoices #Convenience #HealthyLiving